The pro's and con's of Sziget Festival, Hungary

In two weeks – on the 10th of August – another edition of Sziget Festival will take place in Budapest, Hungary.
Here's a few reasons why you'll want to go there, and some things to keep in mind:
Location
Sziget is hosted on an island in the middle of Budapest. One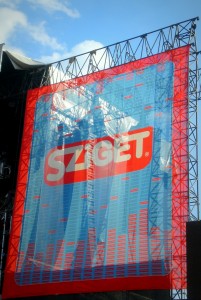 benefit of this location is that you don't have to wander around from campsite to festival location, as it is all in the same spot.. And once you're on the island, you're pretty much free to go wherever you want. But there's an even bigger advantage to the location:
Budapest itself is an absolutely gorgeous and wonderful city!
As the festival lasts for a full week, and you can even start your stay on the campsite a few days earlier, there's plenty of time to explore the city. And trust me, it is definitely worth it: great atmosphere, lots of culture and even excellent, cheap public transport.

Accessible
Sziget Festival tickets aren't that expensive, especially for a full week of music, banter and holiday sensation. Of course, you still need to actually get to Hungary. A plus: several organisations throughout Europe arrange for trains and buses to take you to Budapest.
From the Netherlands for example, there is a sleep-train and a party-train, dependent on your preferences.  But if you don't like spending 16 hours in a train, you can just as easily book a flight straight to Budapest airport and get there in a few hours. And again, both options aren't really expensive at all and get you to where you need to be.

Facilities
The thing I was mostly impressed by, were the facilities of Sziget festival. You can buy an array of different festival tickets (day ticket, night ticket, week ticket, camp ticket etc.) They've managed to cater for every need, based on the tickets. There are shower areas throughout the festival site, which are well-maintained and for which your ticket (wristband) has to be checked before you can use it. As the weather is mostly hot and dry (and therefor fabulous) they have staff driving around spraying the grounds to stop them from getting too dry and dusty!

Open 24/7
Pretty much EVERYTHING on Sziget Festival is open 24/7. There are food stands open at all hours of the night, so after a day of partying and drinking, you can finish with a slice of pizza or a burger or whatever you like. There are so many food stalls that you can basically get anything that you can think of, at any hour of the day (or night). Music as well: the regular performances end at around 3 a.m. but then the after-party areas are fired up to continue the party until the performances start again.

Disclaimer
Sziget is an amazing festival, but here's a few things to keep in mind:
Sziget allows you to pop up your tent wherever you want. You can put it in front of the main stage if you like (although I would advise against it)
Just make sure to check your surroundings before settling on a location..
If you accidentally put it next to the 24/7 drum-and-bass-after-party-place, you don't get any shuteye for a week.. trust me, I know..
Alcohol is very cheap and they serve just about anything (liquor and all) which means that you'll probably spend most of your time there being drunk and hardy remember what you've done.
(you can decide for yourself whether this is a pro or a con)
The festival not only offers music, but also plenty of other activities. 
You might end up doing a bungee, or getting tattooed while being slightly inebriated.
Results may vary.
If you get the full festival experience by staying the maximum time allowed, you'll be there for 10 days.
After those 10 days you'll have to learn to adjust to the real world again.
In my opinion this can be very challenging.
Seriously, if you like festivals you should put visiting Sziget festival at the top of your bucketlist!