Bike ride through Scotland, part II (Edinburgh – Cairngorms – Inverness)
Scotland is an absolutely beautiful place and riding your motorcycle there is just amazing!
A few weeks ago I wrote about the first part of my road-trip through Scotland and our stay in Edinburgh. (If you can't remember, you can check it here) Time for a follow-up: part 2!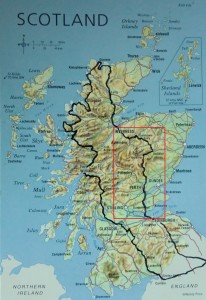 We really enjoyed our stay in Edinburgh, but it's only the gateway to the rest of Scotland: no time to linger! We got up at a pretty decent hour to head north. First we drove over the Forth Bridge, which is a pretty cool piece of work, although not entirely comfortable when riding a bike due to a lot of exposure to a lot of wind. We made it across in one piece though 🙂
There are a fair number of routes you can take when you want to head north. We figured we wanted to spend the night in Inverness, so we only had to figure out how to go there. You can follow the A9 all the way to Inverness which it the quickest way, but if you're there to see the country, you really don't want to do that, now do you? You want to get the back roads, the feeling that you're actually exploring the area.
So we followed the A9 up until Perth and then headed northeast. Congratulations, you have just found the only regular road through Cairngorms National Park! And it is beautiful! An enormous stretch of gorgeous scenery, woodlands, mountains and lakes. Absolutely wonderful!
We stopped to have lunch in Tomintoul, a little town in the middle of the park. There we found the Old Firestation Tea Room, a lovely little place with delicious food! A great way to stock up on some energy and get back on the road again. (Riding a motorcycle can be quite exhausting, especially on windy roads and with a friend who drives an average of 60 miles an hour: you'll need all the energy you can get!)
After lunch we continued to Inverness.. We considered taking a detour to drive past Loch Ness, but that would have taken us a few more hours and it was getting late already. So we didn't.
I love how easy it is to just decide what you want to do on the spot.. no planning, just do what you feel like doing at the time.
When we arrived in Inverness, my friend remembered a hostel that he'd stayed in before, called the Inverness Student Hostel (original, right?) It had it's own parking lot, which was a big plus because we could use a place to park our bikes. It's not a necessity, but if it's there, we'll gladly use it.
The hostel itself was warm and cosy. It's perched on a hill with a great view overseeing the river and town, and it's not too far away from all the facilities. Excellent combination I would say!
We went into town to get some food but as it was a Monday it was a bit difficult to find a place which was open and to our liking. In the end we managed though: had a bite to eat, a few pints to drink and time to get back to the hostel for a good nights' rest.
Another great day in Scotland!