The temples of Angkor in Cambodia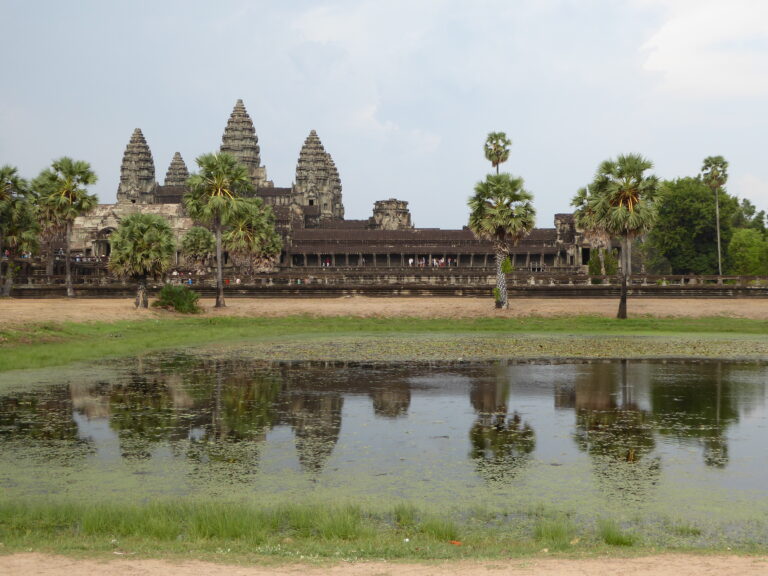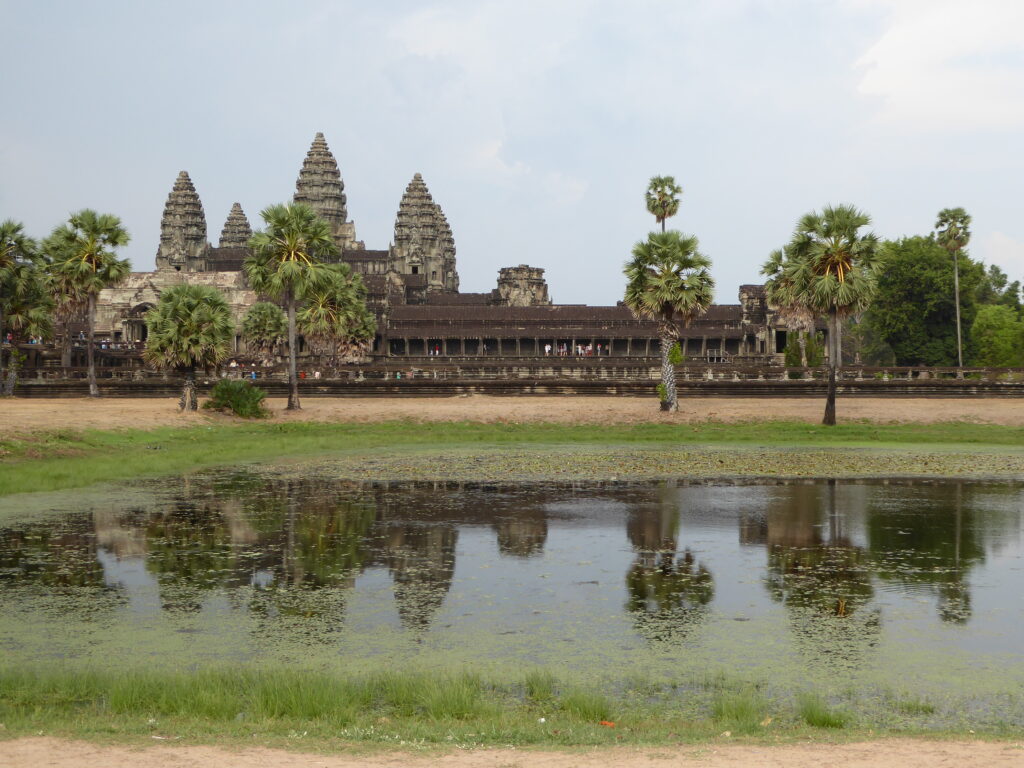 Most people will recognize the image of Angkor Wat when you show it to them, but not everyone knows that Angkor Wat is part of a very large site containing dozens of temples and other old structures. Angkor Wat is by far the most famous one, but not necessarily the most amazing one (although that is a matter of opinion).
When you want to visit any of the temples of Angkor, you have to buy a visitors pass. There's only 1 spot where you can do this: at the ticket center.. This may seem a bit obvious, but we didn't know that. We figured it would be possible to buy an access ticket at any of the checkpoints on the way to the temples, but when we'd cycled 6 km to get to one, we were told that this was not the case. We had to go to the ticket center, which was another 6 km one-way. The people from the checkpoint were nice enough to drive us there (for a fee of course) so that we could get our personalized tickets.. They print a picture of you and everything, very professional!!
You can choose multiple entry-passes: one day, 3 days or 7 days. Prices are high (3 days is $ 40,-) but well worth it! Your choice mainly depends on how many temples you want to see: one day is fine if you only want to see Angkor Wat and Angkor Thom, 3 days was plenty for us (we saw 14 temples) but if you want to study all the engravings and see EVERYTHING, then you might want to take the 7 day pass and take your time.
As I said: we got the 3 day pass.. Now I won't bore you with all the details of all the temples. I'll just give you a summary: on day 1 we saw Angkor Wat and Angkor Thom (this is a collective name for a large complex which contains numerous temples, small and big. We visited Bayon, Baphuon, Terrace of the Leper King and some smaller temples). We did this on bicycle, which was a decent enough distance but the heat was not fun at all! We also didn't know that there is a clothing restriction in some of the temples, so my cousin wasn't always allowed in because she had shorts and bare shoulders. (She had a sarong with her but the guards wouldn't accept her with that either)
Day 2 we drove the Grand Circuit, which is a track of around 40 km. We got a TukTuk (our driver was amazing!) to drive us around… We definitely learnt from the previous day not to cycle again in the heat of hot season, especially for a longer distance 😉 This circuit has 7 temples including Ta Phrom, which is mainly known as the 'Tombraider-temple'.. When you see the pictures, you'll know why 🙂
Day 3 we got up early to watch the sunrise at Angkor Wat, after which we went to the outer temples. Our lovely TukTuk driver drove us to Banteay Srei, Banteay Samré and Prei Monti (which literally no one ever goes to, which means we had it all to ourselves!) Our driver even let me drive our TukTuk!! That was the most awesome thing I've done in a while, and I didn't even crash the thing!!!
So enough info on Angkor.. Here are some pictures: ENJOY!!!