Whangarei New Zealand: at least do the full Falls-walk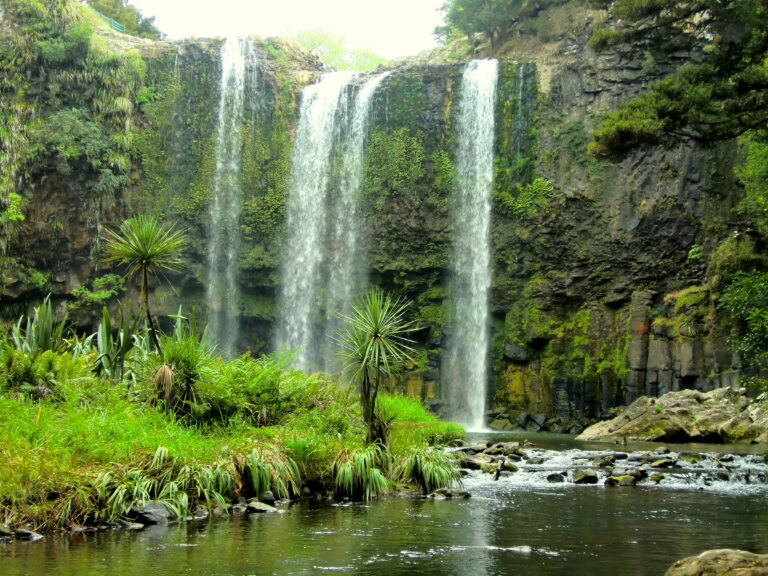 Whangarei is a small town North of Auckland. One of its main attractions are the Whangarei Falls, which means that a lot of people only stop there for 10 minutes to view the falls and then move on.
Whangarei is a good base for Scuba diving at the Poor Knights Islands, so it's pretty much worth it so take a few extra days there.
First of all, if you are ever looking for accommodation in Whangarei, I'd strongly suggest staying at Whangarei Falls Holiday Park. It offers cabins, dorm rooms and camping spots, so you'll always find something to your liking. And the owners are absolutely wonderful! They go the extra mile to make all their guests happy and are genuinely interested in hearing your stories. They're also only a few yards away from the Whangarei Falls, so great location!
The Whangarei Falls are easily reached from a parking lot at the top of the falls. There's a trail leading down to the base of the falls, where you can see it in all it's splendor. I visited during dry season, so the falls were relatively dry. Imagine what they will look like with a large water supply!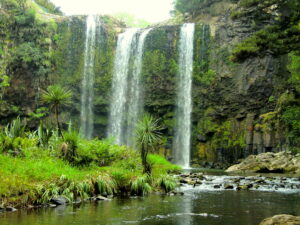 When you're at the bottom of the falls, there's a path you can follow downstream. First it takes you to a small lake, past flower fields into the adjacent forest.
The forest holds New Zealand's most famous trees: the Kauri tree. They've built a complete boardwalk around these trees so you can really enjoy the surroundings from high up in the air. It's simply beautiful and very impressive to get so close to these massive trees (especially when you're about as tall as a hobbit, like me 😉 )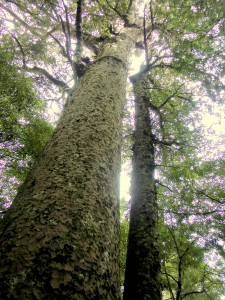 When you continue the path from the boardwalk down to the town center, you might want to pay close attention to the direction you're taking. The entire walk was supposed to take about 1,5 hours, but it took us nearly 3, so I figure we took a wrong turn somewhere along the line 🙂
The added time however did give us a few extra sights, among which the world's most wonderful town sign I've ever seen, right in the center of Whangarei: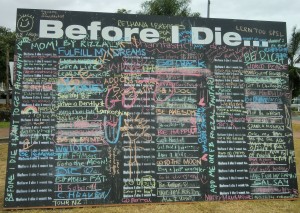 What do you want to do before you die?