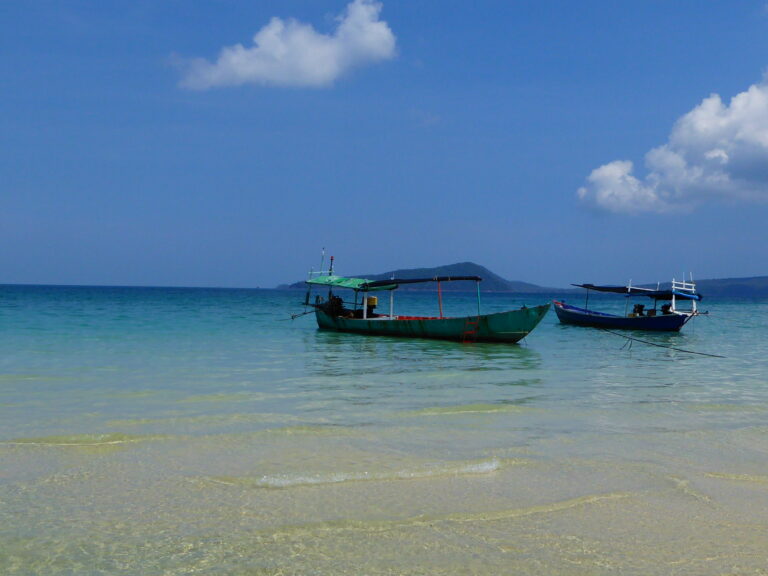 There are several islands on the coast of Cambodia. Koh Rong and Koh Rong Samloem are close to each other and can both be accessed from Sihanoukville. Choosing between them is pretty simple: both are bounty-islands, both have amazing scenery, but Samloem has hardly any inhabitants and therefore nothing to do, while Koh Rong has something that resembles a village with a social infrastructure.
So we went for Koh Rong 🙂
You can either get a speed ferry or a slower boat to the island.. We took the slow boat together with a whole lot of Chinese people that needed life-vests because they couldn't swim if their life depended on it.. Maybe not such a good idea to take the most rickety boat available then, right?
The boat dropped us off on one of the wrong beaches.. we had to carry our backpacks over sandy beaches for an hour before we got to our destination.. I've never been so glad that it was cloudy and 'cold' (for Cambodian standards anyway)
But then you are there: Koh Rong. It's beautiful! And there's hardly anything to do! The perfect getaway!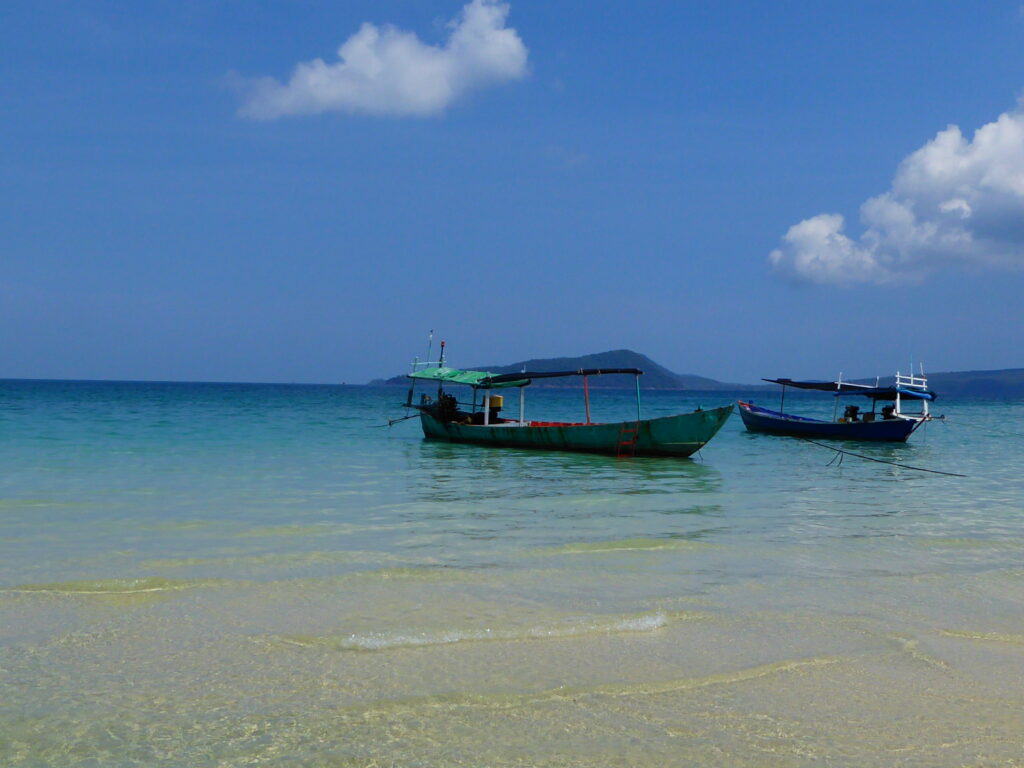 Pretty much every guesthouse offers a boat trip around the island. First we went snorkeling (the reef was pretty much dead but there were some nice fish around) then we went fishing (with coils of fishing line that you just chuck in the water and hope for result.. Our boats captain did great by catching 13 fish.. the rest of us caught 1 fish between 11 people!)
After that we went to Long Beach. It's said to be the best beach of Koh Rong.. It's definitely gorgeous! But there's a lot of development going on: houses are being built and I even heard rumors about an upcoming road.. There are currently no roads or vehicles on the island, which I think is a big positive. It would be a shame if they changed that!
Anyway, we stayed on Long Beach for the rest of the day. We played some frisbee, chilled out, caught the sunset (while swimming, because a boat full of Chinese people decided to move right in front of our boats view just before the sunset started.. lovely people, really!) Finally we had dinner on the boat; eating our freshly caught fish and some rice and chicken.. It wasn't a bad day at all!
And that's pretty much everything we did for 5 days! The rest of the time we sat around our guesthouse, having a meal (there's a lot of decent food on the island, but still a lot of people get sick.. So did I 🙁 ) Stayed on the beach, working on our tan and reading a book.. Occasionally taking a dip in the sea to cool down.. and then did the same circle again.
It was Eat, Sleep, Swim, Repeat. Love it!