Driving 'the Loop' from Thakhek, Laos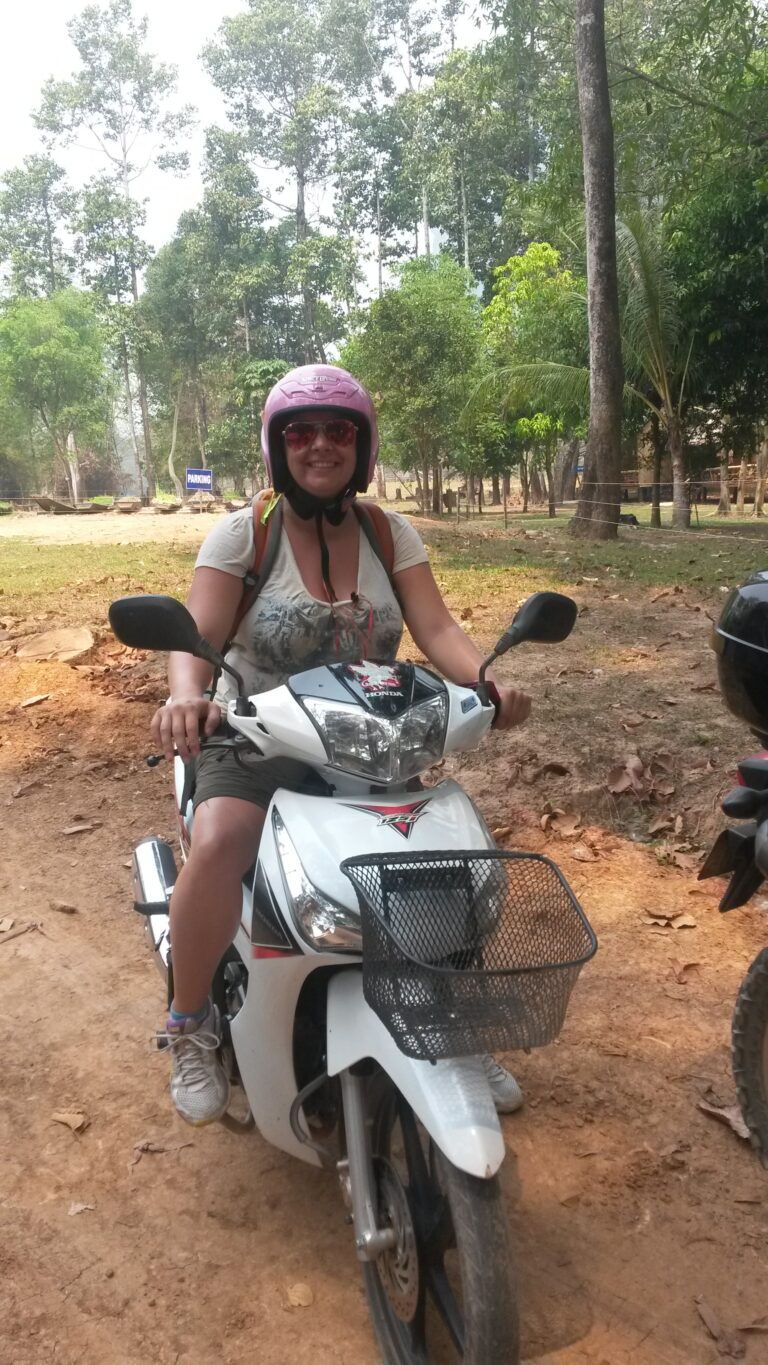 Thakhek is a little town in the middle of Laos. It's not a very well-known place and it isn't even mentioned in my travel guide book.. So why go there?
Well, it's the perfect starting point for driving 'the loop'. The loop is a looped track of about 500 km, leading you around the areas stunning scenery and many sites such as waterfalls and caves. The idea is that you rent a motorbike and drive the loop in 3 or 4 days, depending on how much you want to see and do.
Me and my friend got a bit of a late start: we slept in, went for breakfast, got some coffee, and then slowly walked over to the rental company which we needed to find before we could actually rent a bike. By the time we got to Wang Wang motorbike rental it was well passed noon. My friend had never ridden a bike before so she rented an automatic. I like having control over my bike, so I rented a semi-automatic. There were also options for hand-shift bikes, but they were all way too large for me 🙁 So semi-automatic it is…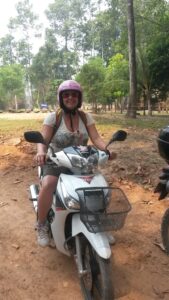 Just before we left town to start our journey, we stopped by the roadside to buy us a watermelon. Always nice to have a snack once you get to your next location. The rental company had given us a basic map of the route, which also mentioned several guesthouses along the way.
As we didn't really have an early start, there wasn't much time for us to stop along the way: we drove on and on, stopped a few times for water and food, and continued until we reached the last guesthouse on our way, before we would be entering a 60 km long road of nothing.
The guesthouse was pretty decent and before long another group arrived that we had seen a few times along the way. We hung out and had dinner together and decided to join their forces the next day. We now had a group of 10 very different people on 9 very different bikes driving together. Some had never driven so much as a moped before, others had been driving motorbikes for a long time and a few had never done it but still thought they were good at it 😉
The roads were great! A lot of winding roads, bends and hills, up and down and round and round. Motorbike heaven I would say! So every now and then I opened the throttle and left most of the group behind, just having fun on my bike and enjoying the rush! Even though my bike was only a 125cc, it still managed to go around 100 km/h, which I would say is decent enough, especially without any protective gear on.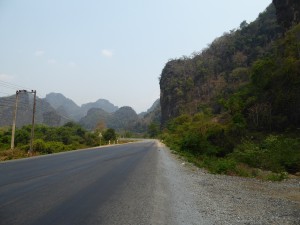 Some of the roads weren't as good as others though. We passed stretches of road works where the whole layer of asphalt had been removed and heavy machinery was driving back and forth to repair everything. It was mostly very dusty in those areas, and our helmets didn't necessarily protect us from those dust clouds. So all you could do was hold your breath, squint and slowly move forward.
Other times we had roads that were never paved at all, and would not likely be paved in the future. Potholes were everywhere and it was a sport to try and avoid as many as possible, while driving a decent speed and staying on your bike due to lack of suspension. I managed, but unfortunately half of my watermelon didn't stay in its assigned spot: in a particularly deep pothole it jumped out of the basket and flew away from my bike, causing the person behind me to break, swerve and fall off her bike. The person behind her had the same problem and went down with her.
So we had 2 injured, 2 bikes down and 1 ruined watermelon. Not a great score. We patched them up and got them to a health clinic where they received some proper treatment, after which we had to decide that our day of driving had come to an end. (we also happened to be where we wanted to go anyway, only a lot later than we would have liked)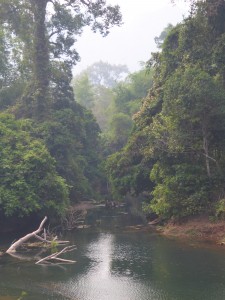 We booked the whole group into the Spring River Resort, which is pretty much on of the best places I've stayed in during my entire trip! We had bungalows with two excellent beds, decent bathroom and big mosquito nets. But above all, the staff and food were amazing!! The menu was small, but between the lot of us we tried a lot of different dishes and all of them were excellent! After we all finished eating, the staff got together to cook their own dinner: a traditional Laos Sindad, also known as a hotpot or BBQ. When the staff was finished, the owner invited us to join them to taste the food they had left over, while she explained about their culture, the people and the resort. By the time all the Sindad food was gone we were completely stuffed and happy as a clam! This was the definition of perfect hospitality!
Next day we started by going to Konglor Cave. It's very close to the resort, and we wanted to do it the day before but didn't get around to it for obvious reasons. Konglor Cave is a massive cave and you can only enter it by boat. Once inside, there's a small section that you can visit on foot, after which you get back in the boat and continue.. One way through the cave takes you about 20 minutes, so it's a fairly big cave I would say!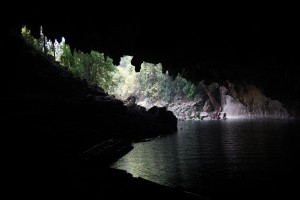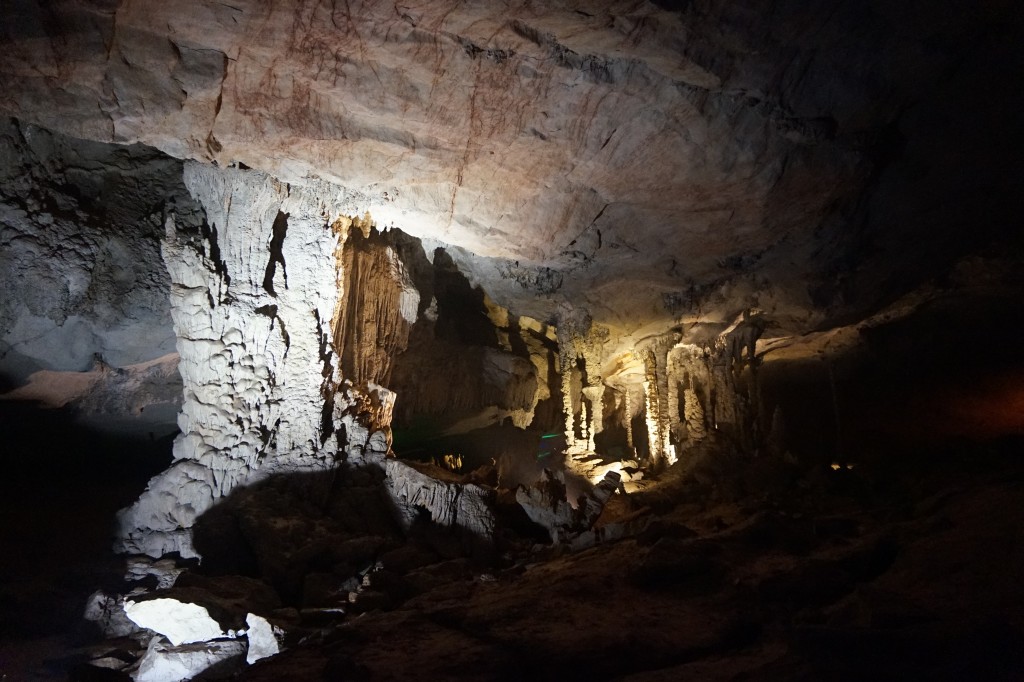 It took us a while to get the boats sorted, go through the cave, turn around and get back again, so by the time we finally finished our visit, it was again past noon, and we hadn't traveled more than 10 km. We tried to get a quick lunch (which turned out to be a very slow lunch because the cook was very slow) and after lunch we set off to see another part of the loop. But time was again not on our side. We wanted to make our way to Thalang, but by the time the sun set, we still had over 70 km to go.
Back home, driving in the dark is not a problem. Here in Laos, you don't want to do that! There are no street lights, there are plenty of potholes, dogs and cows regularly crossing the street and only about half of all cars and bikes have working head lights or tail lights. All in all: you don't want to drive in the dark!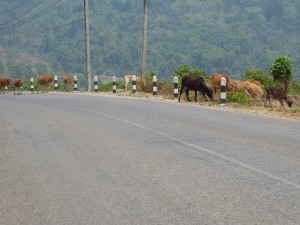 We didn't have a choice but to stop and stay the night in Lak Sao. We found a hotel and a local place to eat. It wasn't great, but definitely wasn't bad either.
Next morning our group split up: some of us were staying another day to see some more caves and waterfalls, me and some others decided to get an early start and head back to Thakhek. We had another 160 km to drive and had to get back to the rental company before 1 a.m. We skipped breakfast and drove back as fast as we could. This wasn't really fast, because the girl who had been injured before was with us, and she'd lost all confidence in driving. She was keeping up a steady but slow pace.
In the end we arrived at the rental company at 12.45, just in time to return the bikes and get some lunch. Perfect!