A unique experience: annual Buddha festival in Magway, Myanmar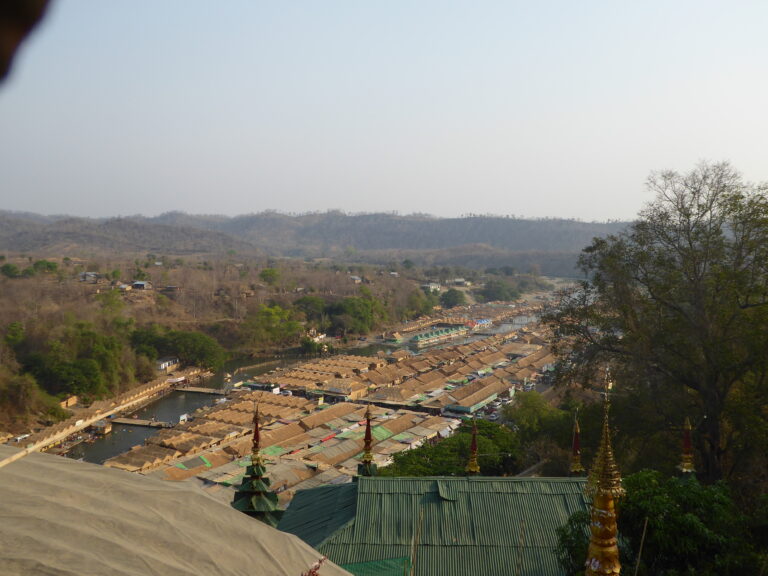 In Yangon I met some great people and we decided to go to our next destination together: a place called Pyay (pronounced as Pee, which leads to a big pool of jokes to choose from: "I'm going to Pee tomorrow", "I'd love to see Pee upclose", etcetera. Especially funny when drunk!)
Pyay was great, although rather uneventful: we spent a few minutes at the local tempel (with a cool view of a large buddha nearby) and just hung around, eating at the local night market, drinking at the local restaurant (they had chilled beer mugs, our favorite!)
So we just took in the local vibe, which was great, but there's not really anything extraordinary I can tell you about it. It was just chill..
However, from Pyay we took a bus to Magway. I had never heard of this place, but one of my friends thought she'd read something about some festival going on, although she couldn't find any information on it anymore. We figured we might as well go there and see what was going on.
Seriously: the coolest thing so far on my entire world trip!
(It's not easy to actually get to the festival: we had to find a local who could speak English, who knew about the festival and knew how to get there. Fortunately we found such a person and he arranged for a bus to pick us up at 6 a.m. so we could get to the festival.. It's still over an hours' drive from Magway)
So we got up early, got on the bus and ended up at the festival. Just to give you an impression: the Buddha festival is an annual pilgrimage, taking place every year from February to April, ending when the Water festival starts in Myanmar. When we were there, it happened to coincide with a school holiday, which meant that is was extremely busy.
The festival is built around a temple in the middle of nowhere. Usually there is nothing around for miles, but now, there are thousands of bamboo shacks and huts temporarily built up to accommodate all the visitors: huts for entire families to sleep in, huts for restaurants, markets, toilets, you name it: an entire bamboo village popped up out of nowhere and will be gone immediately after the festival ends.
Amazing!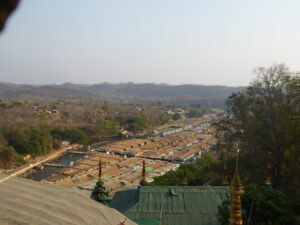 What's more amazing is the atmosphere: thousands and thousands of Burmese people come here for their pilgrimage, combined with their holiday. It's a massive ant-farm of people, scattering around. A river runs through the area, and everyone uses it: either to swim, to play, to wash and bath, or simply to cool down.
It's simply wonderful!
The actual pilgrimage is a walk up to the temple on top of the hill, stopping at different shrines along the way to pay homage to Buddha (and donate money and/or goods). Once you've done this at every shrine, you've successfully completed the pilgrimage.
Literally every step up the hill is covered by market stalls. People selling clothes, food, medicine, flowers to be used as tribute, people offering to read your palm or tell your fortune: it's just a massive carnival, Buddhist-style. (I even saw popcorn and cotton-candy along the way)
And the most amazing thing: no tourists! Literally! Among over 50.000 Burmese people who where at the festival that day, me and my 2 friends were literally the only white people around. We were so out-of-place that hundreds of people stopped to gawk at us and we had over 30 people actually ask for a picture with us because they'd never seen such a strange sight. Strange as it may seem, I never felt more welcome in my life: despite the fact that we looked so different, there was not a hint of awkwardness or discomfort. They liked the fact that we were there and that we were interested in their way of life.
And I loved every minute of it!